on
September 27, 2012
at
12:01 am
Long live the king/queens!
by Arwen
on
September 12, 2012
at
7:44 pm
Have you ever read Girls with Slingshots? I discovered it the other day and devoured the whole lot of it. Danielle is very talented and witty. Her art is wonderful as well! With that combination how can you go wrong? Check it out here: Girls with Slingshots and enjoooooy! Have a wonderful daaaay!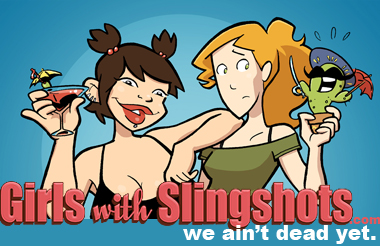 by Arwen
on
May 3, 2012
at
12:42 am
Hi there my dears! I know we just got started again, but I'm in the process of transferring data from my old computer to a new one, and I'm in transition in a new living situation. So much happening all at once! I wish there was more time in the day so I could get all that and B&C done for you. I will definitely update with something new and wonderful next week though. Take care!
by Arwen
on
March 27, 2012
at
12:22 pm
The strips have been shuffled back to one update a week on Thursday. If you followed them when they were originally released in 2010, thank you for enjoying them again at an accelerated pace! If you just got involved, welcome and thank you too! In a few weeks I will be updating with brand new strips!